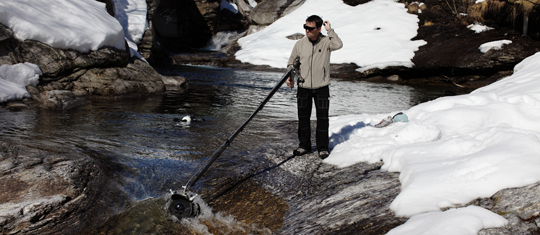 photo credit: Chanty
First tests of my carbon PoleCam prototype with integrated video-google and fixed remote shutter release gave positive results. The maximum extension of the tubes is 350 cm, while the telescopic structure allows the arms to be extended from 70cm to 350 cm; the wiring system slides inner the tube allowing all commands (video signal and remote shutter) to be available at the end of polecam.
In phase of planning it has been thought important consider the idea of a inner cable system to avoid any risk of entangling, cable tearing, etc…

The underwater camera housing is connected at the end of polecam through an adjustable balancing system remotely connected to a lever; this idea is born from the necessity of being able to directly vary the angle of resumption of the housing, without every time to extract the entire system from the water.
On the anodized aluminium "L" is fixed the watertight remote shutter, the water resistant plug for wiring connection and the video signal to connect the system to the video-google allowing remote vision, 12V power for the viewfinder camera, and the ON/OFF switch.
The telescopic arm is built in carbon for more optimal flexural strength; the aluminium parts (anticorodal) are dealt with hard anodization resistant to salt water; the remote shutter and video cabling are resistant to water (IP68 certification); the polecam is assembled with 5 carbon tubes with diameters of 28-32-36-41-43 millimetres build with an anti-spin system that guarantees the arm to remain blocked without to endure slackening in the points of joint between the tubes.
This post is also available in: Italian

7 comments
7 Comments so far
Lascia un commento