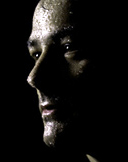 Davide Vezzaro was born far away from the sea, in the small town of Lugano in the Swiss Canton of Ticino. A finance manager converted to become a underwater photographer fueled solely by a deep love of the ocean and its habitat. After a few years of participating in international underwater photographic competitions, and consolidated his knowledge, moved forward to a professional career. He pursues his endeavor from the clear, freezing Alpine lakes and rivers near his home, refining his own photographic techniques in this chilling water.

These are places where the extreme conditions of the water would seem to put anybody off, but with patience and persistence they are able to slowly reveal never-ending designs, reflections and lights to the sensitive, alert visitor.

Born with the desire to explore the world's most remote destination and transmit the emotions that such places create and leave after each sojourn, the photographer became a witness to all he sees, especially for those people who were not so fortunate to explore the ocean deep under. As a silent reporter, he records all the details both in images and in words.

A keen fan of wide-angle photography, his photos capture the dynamic aspect of each moment, providing a sense of movement and continuity to each photo. In recent years, he has developed a preference and aptitude for extreme wide-angle shots, with which he has managed to reveal the most hidden and innermost scenarios of underwater life. His dynamic images provide a perception of the slightest movement, such as the algae floating in the current or the lazy gait of a tortoise.

The mix of light, technology and angle of the photo is essential for a "magical" shot. These three elements, which the author spends a large part of his research on, provide results that reveal transparency, chiaroscuro, depth of field and sharpness to an expert eye.

download CV (39.5 kB)